Give your patron's what they want – the ability to shop online!
As an additional benefit, online ticketing and membership sales eliminate long lines, increase your efficiency and reduce staff time.
Versai's powerful suite of online modules integrate seamlessly and have the same 'look and feel' of your existing web site, complete with your logos, banners, links, fonts, and colors. Visitors see real-time availability for all shows and unlike many other web solutions, staff does not have to manually adjust numbers or babysit online events. If more control is desired, that is available too. One mouse click adds or removes seats or prevents the web from completely selling-out limited seating performances.
Same cart purchase. Check out with one payment using Credit Card and/or Gift Card.
• Advanced Sale Tickets
• New Memberships
• Renew Memberships
• Upgrade Memberships
• Gift Memberships

• Camp Registrations
• Birthday Parties
• Donations
• Group Events
• Gala Registration

• Benefit Events
• Member Events
• Scannable Cards
• Kiosk Check-In
• Blockbuster Tickets

• Call Center
• Scannable Tickets
• Online Discounts
• Gift Cards Accepted
• Patron Account

Efficient, Simple, Economical…your 24/7 revenue generator.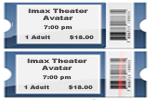 Multiple Ticket Sales Locations
Sell from front desk, web, kiosk, and scanners, all with real-time availability.

Streamlined Memberships
Sell, renew, and upgrade memberships and gift memberships from the web. No staff time required.

Scanable Tickets
Smart Scanners admit secure barcoded print-at-home tickets or 'sent to cell phone' images.
More Info…
Versai is the most comprehensive reservation point-of-sale system on the market today. Offer and easily monitor admissions, party events, camps, gala events, member purchases or donations at any time, from anywhere in your facility. With a glance, check the availability of your IMAX, planetarium, special events or exhibits and adjust seats if needed… with a mouse-click, offer more seats to the web or less. Easily control whether the web can sell out your limited capacity events or if you want seats left for walkup customers. Versai gives you the technology and the tools to cut costs, improve management and staff efficiency, enhance your customer's experience and increase revenue all with the convenience of today's technology.